---
1.) Hildebrand Medical Library - Update on Remodel
The hours are Monday-Friday 6:00 a.m. to 10:30 p.m.  
The librarians are working remotely but they are available by email at Fresno-library.ucsf.edu 
Consultations, trainings and one-on-one research sessions are available upon request. 
The Library will be closed on October 13 -15th for the 2nd phase remodel. 
---
"Get it at UC" – New Icon to Retrieve Full Text
The UCSF Library has changed the link out icon displayed in their databases (see image below). The icon connects you to the vast resources within the UC system. In addition, the process to obtain full text is more user-friendly, offering more options for article retrieval. And as always, the UCSF Fresno librarians are available to retrieve articles if needed.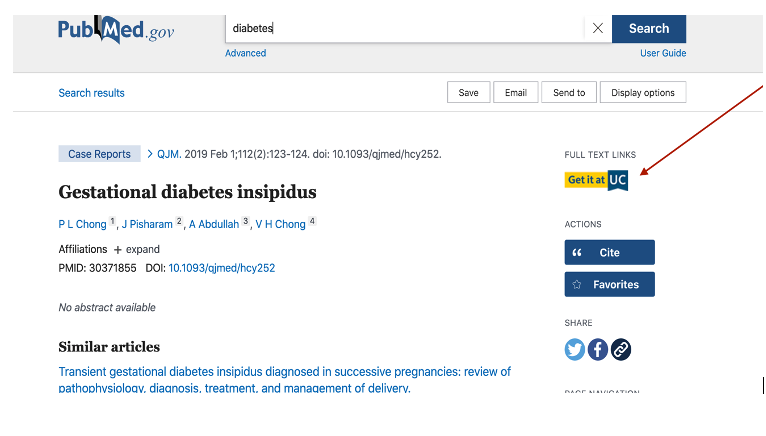 UCSF Profiles – UCSF just upgraded UCSF Profiles pages with new features.
Here's what's new:
Better mobile/tablet experience: Try loading your UCSF Profiles page on your phone.
People List: Log In to add people to your list. When it is ready, you can download their pubs or contact info and create visualizations from it. See instructions.
Everything Search: Find publications and related concepts more quickly. 
Publications Features: On any profile, you can now filter or visualize all publications, or convert the list to plain text to paste into a CV or biosketch.
Last year, 2 million people visited UCSF Profiles:
Researchers use it to find collaborators and identify mentors. 
Funders use it to research potential grantees. 
Development staff use it to match researchers with opportunities. 
Patients use it to learn about clinician-researchers.
The public uses it to learn about researchers in the news.
---
The library workshop series will resume in the 2022 calendar year. The new format will offers 30-minute training sessions and will continue via Zoom. Librarians are always available to provide workshops by request to your group or program.
Library Services Overview
Copyright Basics 
Intro to Systematic Reviews 
Predatory Publishing 
PubMed Basics/Review 
ORCID Basics 
UCSF Profiles
---
4.) Diversity, Equity, and Inclusion / Dermatology and People of Color
First Derm
First Derm, a US-based online dermatology and tele-health website provides feedback on skin conditions in response to users who send in cases to board certified online dermatologists. In an effort to better serve people of color, they have launched a Skin of Color page. Learn more at the link below.
https://www.firstderm.com/people-of-colour-skin-of-color/
BlackandBrownSkin
"The medical care you receive should never be compromised by the colour of your skin." This is the premise upon which BlackandBrownSkin, an educational app was founded by Malone Mukwende.  After noticing the lack of clinical teaching in medical school about conditions on patients with darker skin, Mukwende was inspired to create the app. His goal is to "see the impact of this educational platform result in earlier and more accurate diagnoses, increased patient satisfaction and greater confidence among healthcare professionals when treating people of colour."
https://www.blackandbrownskin.co.uk/
---
Ready to be inspired? Learn something new? Take a virtual vacation? Listen to a podcast!
• Kevin MD: https://www.kevinmd.com/blog/post-author/the-podcast-by-kevinmd
• Ologies- experts interviewed on all sorts of "ologies" from fireflies, to cider, to UFOs: https://www.alieward.com/ologies
• Sidedoor: a podcast from the Smithsonian: https://www.si.edu/sidedoor
• The Sporkful: It's not for foodies, it's for eaters: https://www.sporkful.com/tag/podcast-episodes/page/2/
• Stuff You Missed in History Class: https://www.iheart.com/podcast/stuff-you-missed-in-history-cl-21124503/
• A Taste of the Past- Where Food, Culture, and History Meet https://www.atasteofthepast.com/podcasts/
• Ten Percent Happier with Dan Harris: https://tinyurl.com/y5a5sypt
• This American Life: https://www.thisamericanlife.org/archive
• Top 20 National Park Podcasts: https://blog.feedspot.com/national_park_podcasts/
• You Must Remember This (Old Hollywood): https://www.podchaser.com/podcasts/you-must-remember-this-35836
---
For questions, contact library staff or email the Hildebrand Medical Librarians: [email protected] 
To access digital library resources visit "Find Materials" - From a non-UCSF network: Log into My Access/choose Library Electronic Resources