---
1. Hildebrand Medical Library Re-opening Soon

The Hildebrand Medical Library has been closed for renovations and the projected date of re-opening is this summer. We are excited to share some of the new features that Tangram Interiors has designed and made possible through the SJVPRIME state funding. The library space has been reconfigured to integrate modern technology with comfort and collaboration by adding new computer stations, space for laptops, a treadmill desk, a quiet pod, a modular meeting room, an Innovations Lab, a Makers Lab with 3-D printer and scanner, a 3D virtual reality station and more.  What is a quiet pod?!! This cozy, modular pod is a sound-proof space that enables one to make a quick phone call, chat with a colleague, finish an email, or spend some quiet time without the disruption of others.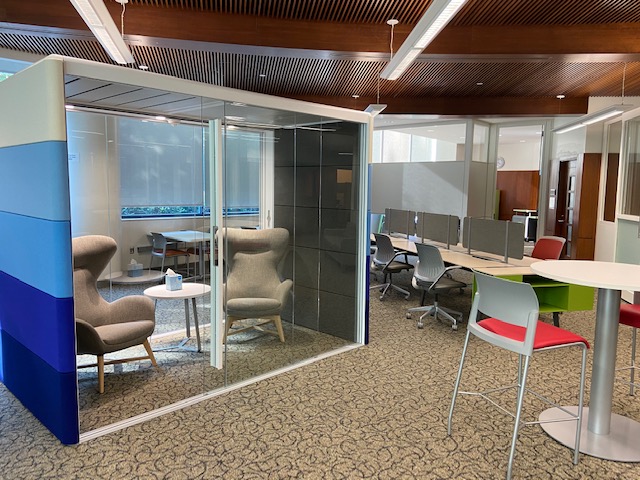 As of April 1, 2021, UCSF has reached a four-year agreement with Elsevier Publishing after more than two years of negotiations. Highlights of the new agreement: 
Access to all Elsevier journal articles that we purchased before, plus additional journals.  
Open access publishing of UC research in nearly 2,300 Elsevier journals from day one. 
Library support for UC authors and open access publishing with the library paying the first $1000 of the open access fee (article publishing charge). Authors will pay the remainder if they have research funds available. 
Authors receive a 15% discount on the article publishing charge for most Elsevier journals. 
The library will cover the full amount of the article processing charge for those who do not have sufficient research funds for the author share. This ensures that all authors have opportunity to publish their work as open access, but they may opt out of open access publishing if desired. 
UC signed open access agreements with additional non-profit journals and continues to forge partnerships with all types of publishers.  

3. Library Workshops – New Format! 
The UCSF Fresno Hildebrand Medical Library offers noon workshops on a variety of topics as shown  below. The format has been revised to a 30-minute format fit into your busy schedule. A customized training session for learners can also be created for individual program meetings.
For more information, contact: [email protected]. 
Copyright – Best Practices 
Library Services Overview 
Predatory Publishing
UCSF Profiles 
PubMed (Intro and Intermediate) 
Systematic Reviews (Intro/Overview) 
Customized training 
 
4. Diversity, Equity and Inclusion 
As part of the UCSF Library system, the UCSF Fresno Hildebrand Medical Library shares the philosophy and commitment to "building a diverse and inclusive Library as a means of promoting health equality and counteracting historic and current systems of oppression." Read more at: https://www.library.ucsf.edu/about/diversity-and-inclusion/
5. UC Library System to Innovate Library Search Tool 
As of July 27, 2021, the new UC Library Search Tool will bring all UC campus libraries together into the same system to streamline the search process for all resources in the UC Library system. Read more at: https://www.library.ucsf.edu/news/uc-library-search-one-university-one-library-one-discovery-tool/ 
 
---
For questions, contact library staff or email the Hildebrand Medical Librarians: [email protected] 
To access digital library resources visit "Find Materials" - From a non-UCSF network: Log into My Access/choose Library Electronic Resources